12 Apostles Tour
Located off the coast of Port Campbell National Park, the 12 Apostles are one of Victoria's most stunning natural landmarks. Take off from our Melbourne heliport and follow the Great Ocean Road as it winds along the picturesque coastline. Overfly the 12 Apostles before landing at the visitors centre to embark on an hour-long guided tour before returning to Melbourne.
TOUR INCLUDES
Return transfer from our Melbourne City Helipad to the 12 Apostles
Scenic flight over the 12 Apostles
60 minute guided ground tour with local expert
DURATION
Flight time: 1 hr 15 minutes each way
Tour time: 3.5 hours
PRICING
1 Passenger: $3,990 total
2 Passengers: $4,390 total
3 Passengers: $4,790 total
4+ Passengers: $1,295 per person
No availability? Please call our Client Services team today to check availability.
Flights available daily.
If you would like to make a booking for 19+ passengers please contact our office on (03) 8587 9700.
Tour bookings are essential. All flights are subject to availability, confirmed passenger weights and weather. Please refer to our Policies for a full list of conditions.

To check availability or to make a reservation, contact Microflite or book online.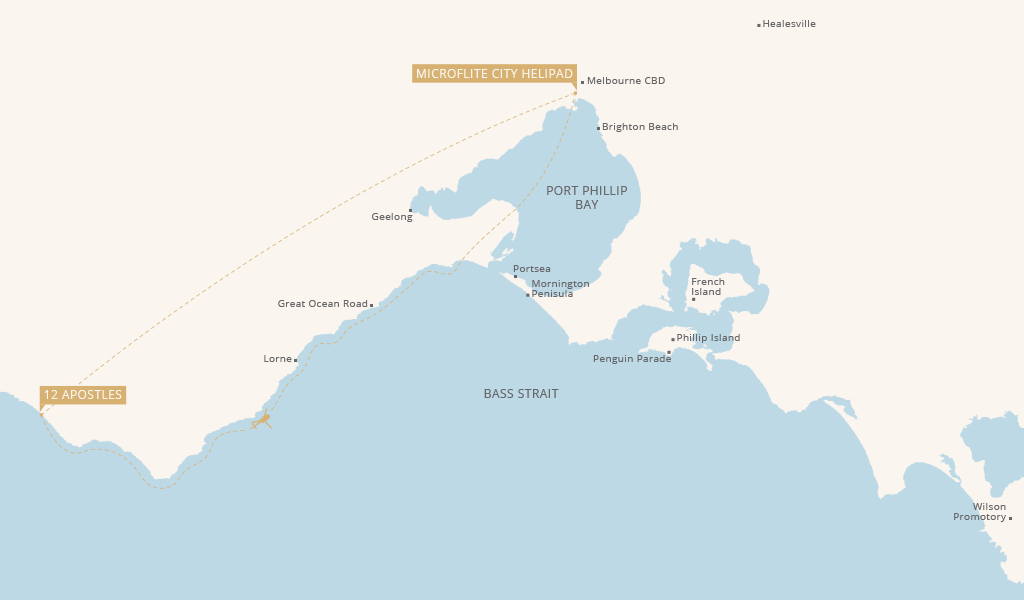 Heli Express
Beat the traffic and take a transfer, make a trip to the ski fields, or arrive in style at some of Victoria's biggest cultural, sporting and social events.
Custom Charter
Our helicopter fleet is available for custom charter hire and group transfers, so you can fly to and from a range of locations across Victoria and the beyond.